Monarch Services has a talented and diverse staff who are deeply committed to our mission of lives free of violence. To reach any of our staff, please email us at admin@monarchscc.org
Board of Directors
Monarch Services Board of Directors guides the agency to fulfill its mission and purpose and provides financial oversight. The Board of Directors are committed volunteers who dedicate their time and resources to serve as ambassadors of Monarch Services and violence prevention work. Our current board members are the following:
Ana Ventura Phares
President
Ana Ventura Phares began her career as an attorney representing farmworkers on housing and environmental justice issues. Seeing local government's potential for community building, Ana went on to serve on Planning and Library commissions before serving on the Watsonville City Council for 8 years. She is the first woman of Mexican American descent to have become the Mayor. As a former migrant student, she enjoys sharing her story with high school students to encourage them that they can pursue their college dreams. Also, for 20 years+, she worked in the Equal Employment Opportunity Office for the County of Santa Cruz to help ensure non-discrimination and diversity, and provided training on preventing sexual harassment in the workplace.  Ana has served on many boards, including the United Way, the Metro Transit Agency, Action Pajaro Valley, and Catholic Charities.  Currently she is on the Board of Directors for the Dignity Health Dominican Hospital. Ana graduated from Santa Clara University and received her law degree from Thomas Jefferson School of Law. She is married to Joe and they have two children in college.  Currently, Ana is a consultant for a law firm in the bay area.
Keisha Frost
Vice President
Keisha Frost joined United Way of Santa Cruz County in 2012 and serves as the Associate Executive Director. Keisha brings an extensive background in fund development, communications/marketing, and organizational management. Keisha is responsible for the overall impact of United Way on the community, with emphasis on increasing its capacity to invest in youth success, family financial stability and access to health. Additional responsibilities include leading the digital strategy as well as statewide and local policy advocacy.
Keisha began her career with United Way in 2010 as the Resource Development Director for Trident United Way in South Carolina. Prior to her service with United Way, Keisha led fund development, communications and program development efforts for national nonprofit organizations such as Girl Scouts, YMCA as well as worked with a team to create the nation's first citywide model for afterschool, the Providence After School Alliance in Rhode Island.
Keisha serves on several board of directors including Dignity Health Dominican Hospital Community Advisors, Girl Scouts of California's Central Coast, and Your Future Is Our Business (coalition with the Santa Cruz County Office of Education and local colleges). She has earned numerous awards such as, 2017 Mentor of the Year - Santa Cruz NEXTIES, Athena Awards – Nonprofit Leader with the McLean County, Illinois Chamber of Commerce, Top 30 Under Thirty, and Top 40 Under 40 for various cities throughout the nation.
Keisha is a native of Los Angeles and a graduate of University of Washington where she was a standout track & field student-athlete Keisha and her husband reside in Silicon Valley with their children, including a set of twins.
Angela Cline
Treasurer
Jamie Joy
Secretary
Jamie Joy is a colorful whirlwind of ideas and radiant optimism. Transplanted from Philly, Jamie is a passionate advocate for queer communities and a dedicated activist and educator. Since moving to California, they have gotten involved with various organizations in Santa Cruz County focusing on visibility, justice, and sexual health. Jamie is delighted to join the Monarch family and support their mission to end violence! 
Linda Gold
Board Member
Linda Gold is CEO of M3iworks, a web design & development company founded in Silicon Valley but now located in Capitola. Passionate around women's and girls' issues, Linda has served on the YWCA Silicon Valley Board of Directors, along with the YW's Advisory Board and Strategic Planning, Fund Development, and Operations committees. She has also served as a coach with Girls For A Change, coaching at-risk high school girls in an Aptos group home, and travels to Guatemala each summer to volunteer with Faces of Hope, a cleft-lip and cleft-palate surgery mission sponsored by various Rotary Clubs. Linda is also involved with the Santa Cruz Chamber of Commerce, and serves on the Women's Leadership Forum planning committee.
Espanol
Cesar De Santos
Board Member
Cesar De Santos has been a Deputy Sheriff with the Santa Cruz County Sheriff's Office for over 21 years. He began his career in Law Enforcement as a volunteer Police Cadet while pursuing an education at Cabrillo College and graduating from San Jose State University with a degree in Criminal Justice Administration. He completed his internship with the Santa Cruz County District Attorney's Office in the check recovery unit.
He was hired by the Sheriff's Office, where he began his professional career, and has worked assignments as Patrol Deputy, School Resource Officer, Correctional Officer, Bailiff and Bomb Technician. He served as volunteer baseball coach and later as Director for the Sheriff's Activity League, in partnership with Jr. Giants, providing summer sports and learning activities for at-risk youth.
Sharon Kluger
Board Member
Sharon Kluger moved to Aptos in 2015 and works as a physician assistant at Dermatology Surgical and Medical Group in Santa Cruz.  She began her healthcare career at Planned Parenthood, where she worked as a clinic educator.  She has volunteered as an advocate for survivors of sexual assault at rape crisis intervention programs in New Mexico and Virginia. 
While working in Northern Virginia in a family medicine practice, she collaborated with local psychotherapists to ensure that their clients, many of whom were survivors of sexual assault and domestic violence, received compassionate and supportive health care.  She transitioned to the field of dermatology in 2013. 
Sharon received her BA in French from UC Berkeley and her Master of Health Sciences and Physician Assistant Certificate at Duke University.  She is thrilled to have joined the board at Monarch Services and is excited to work to make a difference in her local community.
Monarch Services has a talented and diverse staff who are deeply committed to our mission of lives free of violence. To reach any of our staff, please email us at admin@monarchscc.org
Laura Segura
Executive Director
Laura is a first generation immigrant with deep roots in the Pájaro Valley. She has dedicated her professional career  to issues of social justice and equity. Laura has served on numerous commissions, boards, and councils ranging in issues from land use to preschool access to gender equity.  She was a Fellow with the Women's Policy Institute and is very active in legislative work across California. Laura graduated San José State and completed an Executive Program at Harvard Business School. She has worked for the Cities of San José and Watsonville, First 5 Santa Cruz County, and started at Monarch in 2006. She is a proud Watsonville girl who grew up in a large close-knit family and has two wonderful daughters. Laura loves to sew, play sports, and enjoys the beach life.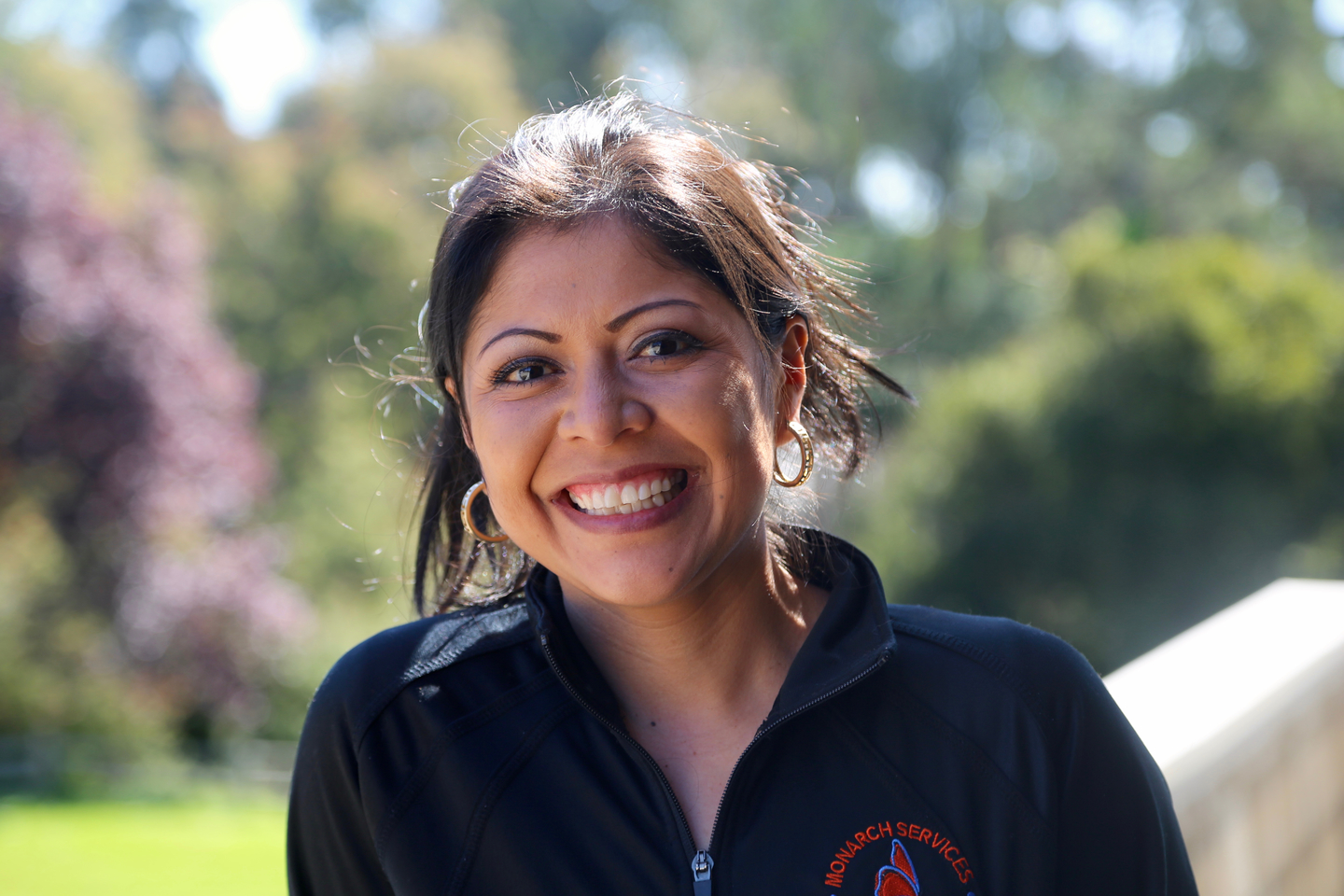 Esmeralda Torres
Case Manager
Sydney Rogers
Project Manager
Alma Mendoza
Shelter Case Manager
Maria Campos
Shelter Advocate
Ruben Garcia
Prevention Specialist
Karen Ross
Prevention Specialist
Yesenia Melgoza-Fernandez
Prevention Specialist
Josephine Salgado
Paralegal
Alexandra Rincon
Administrative Coordinator - Santa Cruz Office
Briana Longoria
Human Resources Manager
Maria Luna Bjur
Crisis Intervention Advocate
Laura Garcia
Crisis Intervention Advocate
Marisol Lopez
Children & Youth Case Manager
Guadalupe Sanchez
Family Support Specialist
Susana Valerio
Shelter Advocate
Angelica Perez
Shelter Advocate
Alicia Gaytan
Crisis Intervention Advocate
Connie Carillo
Crisis Intervention Advocate